Stone Garden
for dan bau, bass dan bau, erhu and pipa
(except: page 7 of 10)
Written for pipa, erhu, two dan bau, and bass dan bau, or any other instrument.
This score can be performed by playing only the pitches indicated, by playing all pitches except the pitches indicated, or any combination of the two.
A deep awareness of stone gardens, the soundscape, and the performance environment is suggested.
Aspects of this score may be performed in any manner the performers wish, including aurally, visually, kinesthetically, synesthetically, interactively, literally, symbolically, or philosophically.
Silence is a primary element of this score, and should be used at all times.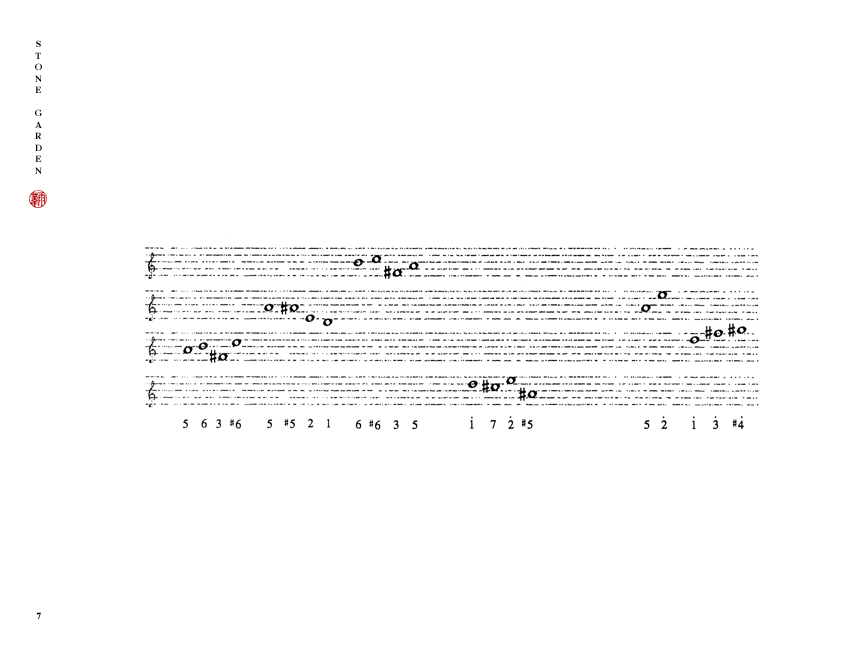 Randy Raine-Reusch
01/01/95
Chinese translation by Jenny S.Y. Tse.
Vietnamese translation by Chau Nguyen.
Commissioned through the Canada Council for the Arts by Vancouver Pro Musica.
Premiered by Khac Chi Ho, Ngoc Bhic Huang, Shirley Huang and Qiu Xia He
at Further East Further West Festival, October 20th, 1995, Vancouver, BC, Canada.
© Randy Raine-Reusch SOCAN